If you're considering moving to Austin, Texas, you'll need to know more about the city. Austin has been ranked in the top three best cities in the United States for several years by Bankrate, Rocket Homes, and Business Insider. With competitively-priced housing compared to other major cities in the United States, a lower cost of living, and an excellent quality of life, there are dozens of reasons for this coveted title.
From a diverse housing market to more live music than you can imagine, let's dive into all the factors that make Austin an incredible place to call home.
Fierce Competition
While the Austin real estate market had issues with an imbalanced seller- and buyer-market ratio over several months, it remains more affordable than comparable cities. Homebuying platform Knock states, "Although
home prices grew more than 30 percent in 2021
, [Austin] continues to be more affordable than Silicon Valley and other major tech hubs."
One of the reasons Austin homes remain affordable is the diversity of new developments. In particular, single-family-home style condominium regimes have been gaining popularity. They're an excellent option for those in the market looking to buy but aren't ready for all the commitments of owning a home. Of course, there are also many real estate options in Austin besides condominiums.
Regardless of what you're in the market for, lower prices mean that you can get more for your investment if you're considering buying. From waterfront properties in Westlake to quiet, tucked-away gated communities with hill country views such as Daven Port Ranch and Angelwylde, you will find a home that fits all your lifestyle needs.
Additionally, Austin homes historically have high appreciation rates. In their research, NeighborhoodScout found that Austin homes appreciated 154.39% in the last ten years, resulting in an average yearly appreciation rate of 9.79%. This datum places Austin in the top 10% nationally for real estate appreciation. This means that although home prices are higher than usual and Austin remains a seller's market, buying real estate now (more than ever) is worthwhile due to the potential for long-term capital gain.
Austin Has a Low Cost of Living
Aside from rising housing costs, Austin is a reasonably affordable city compared to others.
Payscale
calculates that while housing costs are 3% higher than the national average, utilities and groceries show 12% savings.
This is especially important for those wanting to settle down, whether starting a family or retiring. A lower cost of living allows homeowners to spend leisurely and try out all the fun pastime activities Austin offers.
Abundant Outdoor Activities
Regardless of what outdoor activities you enjoy, Austin has various options. Here are the most common ways Austinites like to stay fit while getting some fresh air.
Biking: Take a ride through Austin's multifaceted landscapes on the many trails around Lady Bird Lake, the Greenbelt, or even Spicewood.
Paddleboarding, kayaking, and canoeing: Spend some time out on the water in one of Austin's most scenic places, right under the South Congress bridge on Lady Bird Lake, where you can find an incredible view of downtown and watch the largest colony of Mexican free-tailed bats in North America depart their home every night at sunset (from March-November).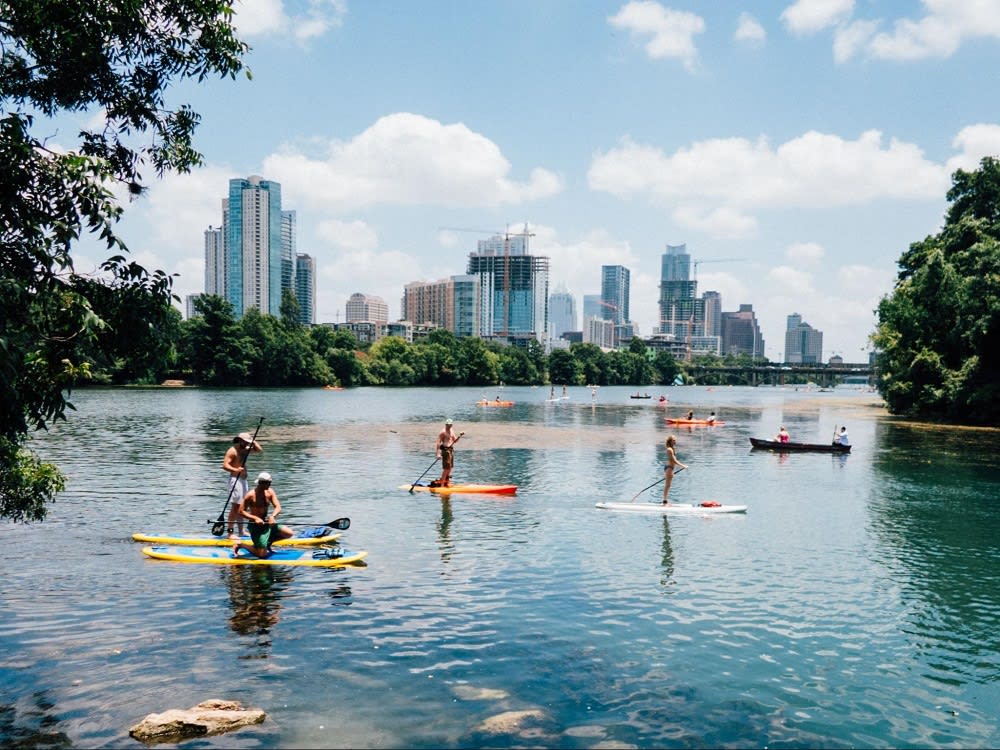 Hiking: Whether you're looking for a stroll through a neighborhood hiking trail or a long workout that will make you break a sweat, there are countless public (and secret) trails to discover and explore. You'll need to connect with some locals to find the secret trails!


A Booming Job Market
With tech giants such as Google, Amazon, and most recently, Tesla having prominent offices in the city, Austin has no shortage of available jobs. A few other major local employers include:
Apple
AT&T
Cisco Systems
Dell
Facebook
IBM
The Greater Austin Chamber of Commerce recently
reported
that "Austin has made up all of 2020's pandemic-related job losses and currently has 47,000 more jobs than in February 2020." Moreover, in a study of the 53 U.S. metro areas with more than 1 million residents, The Wall Street Journal
ranked
Austin second among the country's top job markets.
Austin is also flooding with entrepreneurial ventures. From food trucks to innovative software companies, the city is full of driven individuals seeking to impact society through their ideas positively. Austin is home to some of the best universities, including the University of Texas and St. Edward's University, which continue to produce well-educated graduates that make a ripple in Austin — and society at large.
The city has much to offer in potential careers and professional connections between tech giants and start-up companies.
Unmatched Nightlife
The infamous Sixth Street reels in tourists from all over the state and country to celebrate birthdays, bachelorette parties, and more. However, Austin has much more than just a wild night out on "Dirty Sixth."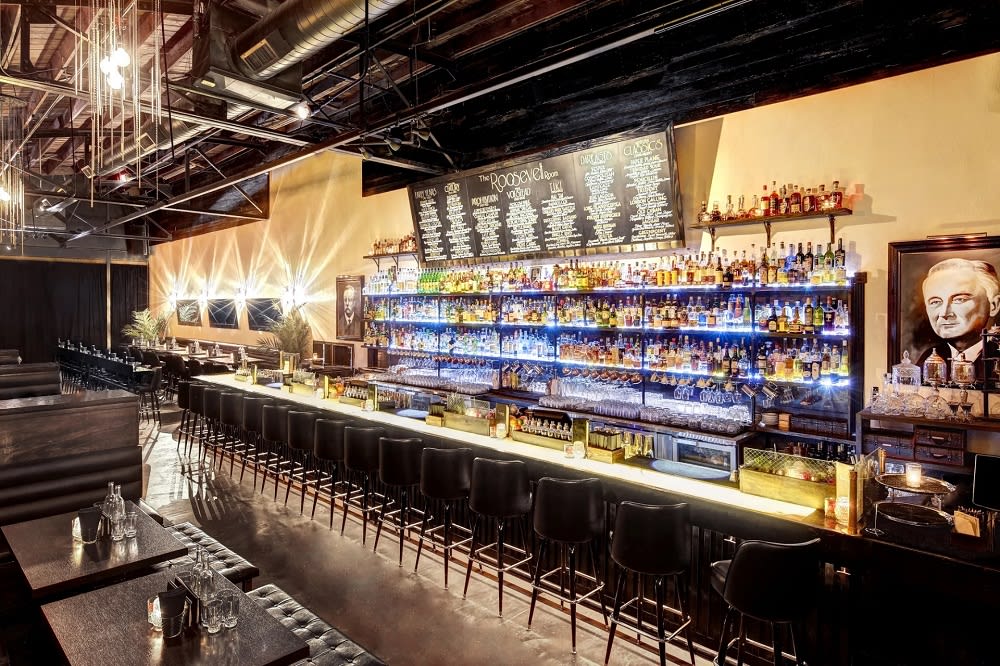 Photo courtesy of Conde Nast Traveler
Cocktails bars such as the Roosevelt Room, which features a menu that spans drinking history from the early years to modern classics, and Firehouse Lounge, a speakeasy hidden behind a bookcase on the first level of a hostel, offer an elegant and unique night out on the town.
Austin Is the "Live Music Capital of the World"
Austin has long been known as the live music capital of the world, featuring nightly performances across various genres, including country, folk, blues, jazz, classic rock, pop, punk, and more. A variety of famous musicians are from Austin, including Willie Nelson and Janis Joplin.
If you want to check out the next Willie or Joplin before they get big, check out the venues below that feature performances from up-and-coming local talent to big-time musicians.
Top live music venues in Austin:
Continental Club & Gallery
ACL Live at The Moody Theater
Speakeasy
Elephant Room
The Paramount Theatre


Food Truck Heaven!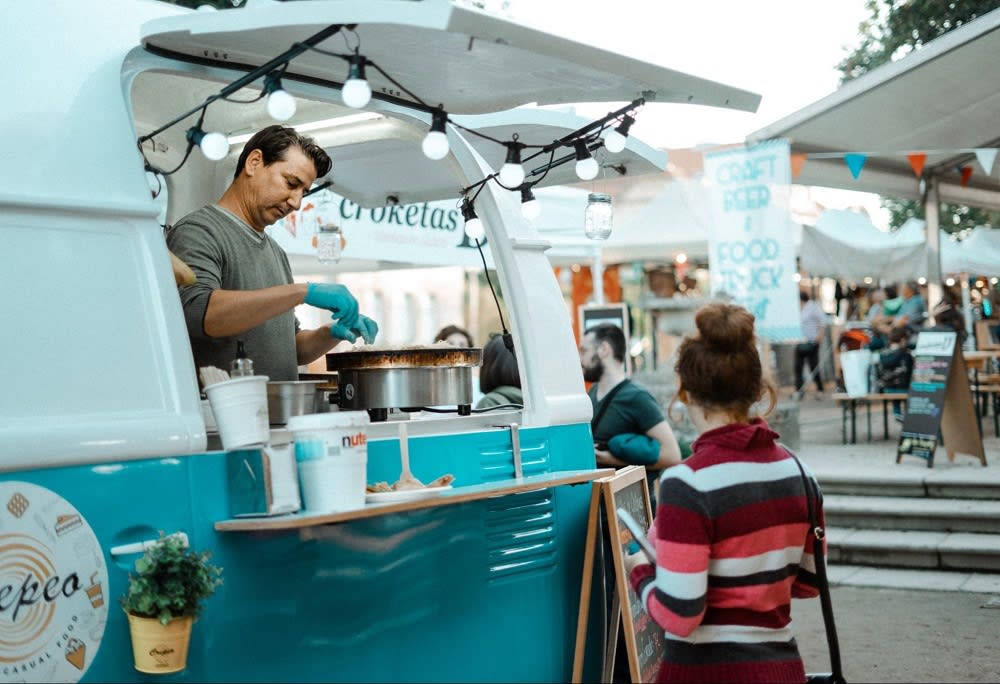 Due to Austin's year-round high temperatures, food trucks stand supreme as a convenient outdoor dining experience. Many music venues and bars feature food trucks, and some have more than one food truck on-premises or within walking distance.
Additionally, Austin is particularly famous for its wide range of taco trucks. You'll be blown away by various options, from authentic Mexican tacos to fusion-cuisine recipes.
Eco-Friendly City
Austin is known for being a green city. Local government, non-profits, and sustainability groups are constantly working to make strides in the city's carbon footprint, energy usage, and natural preservation.
Hot, Hot, Hot
This is Texas, which means the weather can (and often does) reach 90 degrees in the middle of winter and drop back down to a brisk 30 degrees the next day.
Unlike northern states where the temperature gradually drops as the seasons progress from summer to winter, Texas tends to jump around in temperature levels day-to-day during the colder months. It's a good idea to keep your summer clothes and jackets handy in case of drastic weather changes.
Austin Never Runs out Of Things to Do
There is plenty of opportunity for R&R, but Austin is an active and engaged city at its core. There's a reason the tagline is "Keep Austin Weird!" You can find something to do every day and night, from totally normal to completely weird.
Just a few activities include:
Chicken Sh*t Bingo: Yep, you heard that right! Bingo, but with chicken sh*t.
Museum of the Weird: It's in the name! A museum for all things weird.
Cathedral of Junk: This is the fanciest junkyard you'll ever see. Meticulously placed to be reminiscent of a cathedral, this recycled "junk" is one of a kind.
Esther's Follies: If you're looking for a laugh, check out the sketch comedy, magic shows, and other variety performances at Esther's.
Goat Yoga: You've tried regular yoga, so why not switch it up with some goats? Watch out, though; they will likely mistake you for a boulder and hop on your back!
Say yes to a new Austin address! Our Realtors® specialize in luxury Texas real estate, and we're dedicated to helping you find the perfect home that meets all your needs. Connect with
Umlauf Properties Group
today if you're ready to take the next step.