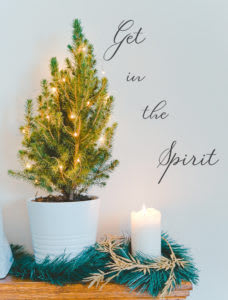 Feeling festive yet? Now that the turkey is all gone, I wanted to give you some ideas for next month! There are lots of festive things going on in December. Check 'em out below.
Austin Trail of Lights
Zilker Park
The Austin Trail of Lights is a community event that invites 400,000 people every year to come to celebrate the holidays in the heart of Austin during the month of December. The event showcases everything that we love about Austin—from music and food to creativity and family fun.
12/10-23
Mozart's Light Show
Mozart's Coffee Roasters on Lake Austin
Mozart's Christmas Light Show has become an annual tradition for many Austinites. Every year, they decorate the deck with over 1 million LED lights and set up a show to our favorite holiday tunes. Admission is free and there is no assigned seating, so bring the whole crew and enjoy! Now through January 2nd.
Ice Skating on the Plaza at Whole Foods
Whole Foods Rooftop, Downtown
A must-do for locals and visitors alike, Ice Skating on the Plaza at the Flagship store has become one of Austin's most anticipated events of the holiday season! The ice rink is open daily from 10 a.m. – 9 p.m. Now through January 21.
Ballet Austin's The Nutcracker
The Long Center
Ballet Austin's The Nutcracker is the longest-running production of the seasonal classic in Texas. Stephen Mills' take on this timeless tale features a cast of hundreds of dancers, including the charming and talented students from the prestigious Ballet Austin Academy who share the spotlight with our professional company of artists. Celebrate the magic of the holidays by experiencing this sweet treat with your family and friends.
12/8-23
Armadillo Christmas Bazaar
Palmer Events Center
Hot music, fine art, and cold beer make the Armadillo Christmas Bazaar the place where Austin shops in the giving season. The show is actually two events in one: an art fair and a music festival with a vibrant community-driven vibe. Visitors can explore an amazing array of handmade items from a wide array of artists while enjoying live local music and sips from a full bar. It all adds up to a fun authentic Austin experience.
12/13-24
Sights and Sounds of Christmas
San Marcos, TX
Every year this family-friendly Christmas festival brings the holiday spirit to San Martians and visitors from across Texas and beyond. Here you'll find popular carnival rides for all ages, a variety of delicious festival food, live performances, and even a visit from Santa Claus. All events take place amidst a sea of beautiful Christmas lights spread throughout the park. Sights & Sounds has something for everyone to help celebrate the holiday season!
11/28-12/8