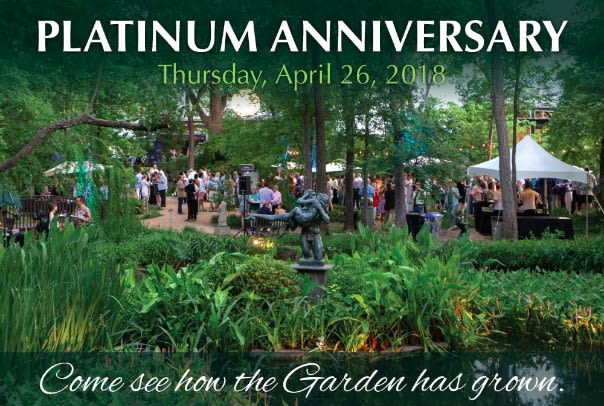 Join me for the Best Party of the year on Thursday, April 26, 2018! Tickets for the UMLAUF Garden Party are on sale – buy your tickets now before they are gone. Many thanks to our wonderful sponsors and volunteers this year. Special thanks to my grandparents, Charles and Angeline Umlauf, who had the talent, vision, and generosity to share their property and collection for all to enjoy. Cheers Austin!
Tickets are officially on sale for the 20th Anniversary of the UMLAUF Garden Party! Come see how the Garden has grown on Thursday, April 26, 2018.
This special evening features 25 of Austin's most popular restaurants including Cannon + Belle, Olive & June, Bullfight, Maudie's Tex-Mex, and many more listed here. Twin Liquors selects wine to match each chef's creations and Bliss Délice, GoodPop, and Fluff Meringues & More will offer up treats to satisfy every sweet tooth.
Guests are encouraged to generously donate by bidding on a collection of silent and live auction items including inspired creations by local artists. Tickets are $175 per person and include food, wine, and access to the Museum and Garden from 7–9:30 pm on Thursday, April 26, 2018.
The VIP Package is $550 and includes admission for two, valet parking, and a pre-party reception from 6–7 pm featuring bites from Central Market along with cocktails courtesy of Tito's Handmade Vodka.
Don't wait! Reserve your spot at the UMLAUF's Biggest Fundraiser of the year today!
GENEROUS SPONSORS

Celebration Sponsors
Platinum Sponsor
Gold Sponsors
Marble Sponsors
Caprock Renewables
Kimberly and Paul Famighetti
Laura and Ricky Matz
Linda and Nick van Bavel
Bronze Sponsors
Becky Beaver
Julie and Richard Schechter
Media Sponsors