Fresh, fluffy biscuits smothered in rich, savory gravy. What more could you want for weekend brunch?
At both
Biscuits + Groovy
locations, that's precisely what you'll get! Every dish is served with three biscuits topped with delectable ingredients, from sausage and bacon to jalapeños and chives. You can always opt for a one-biscuit dish and add toppings like vegan sausage or cheese. For a more filling choice, go for The Gloria, made with three biscuits, three eggs, gravy, bacon, sausage, jalapeños, Colby jack, pepper, and chives.
Next time you're craving a warm biscuit and luscious gravy, head to Biscuits + Groovy. Don't forget to pick up a jar of homemade bourbon peach jam on the way out!
Paperboy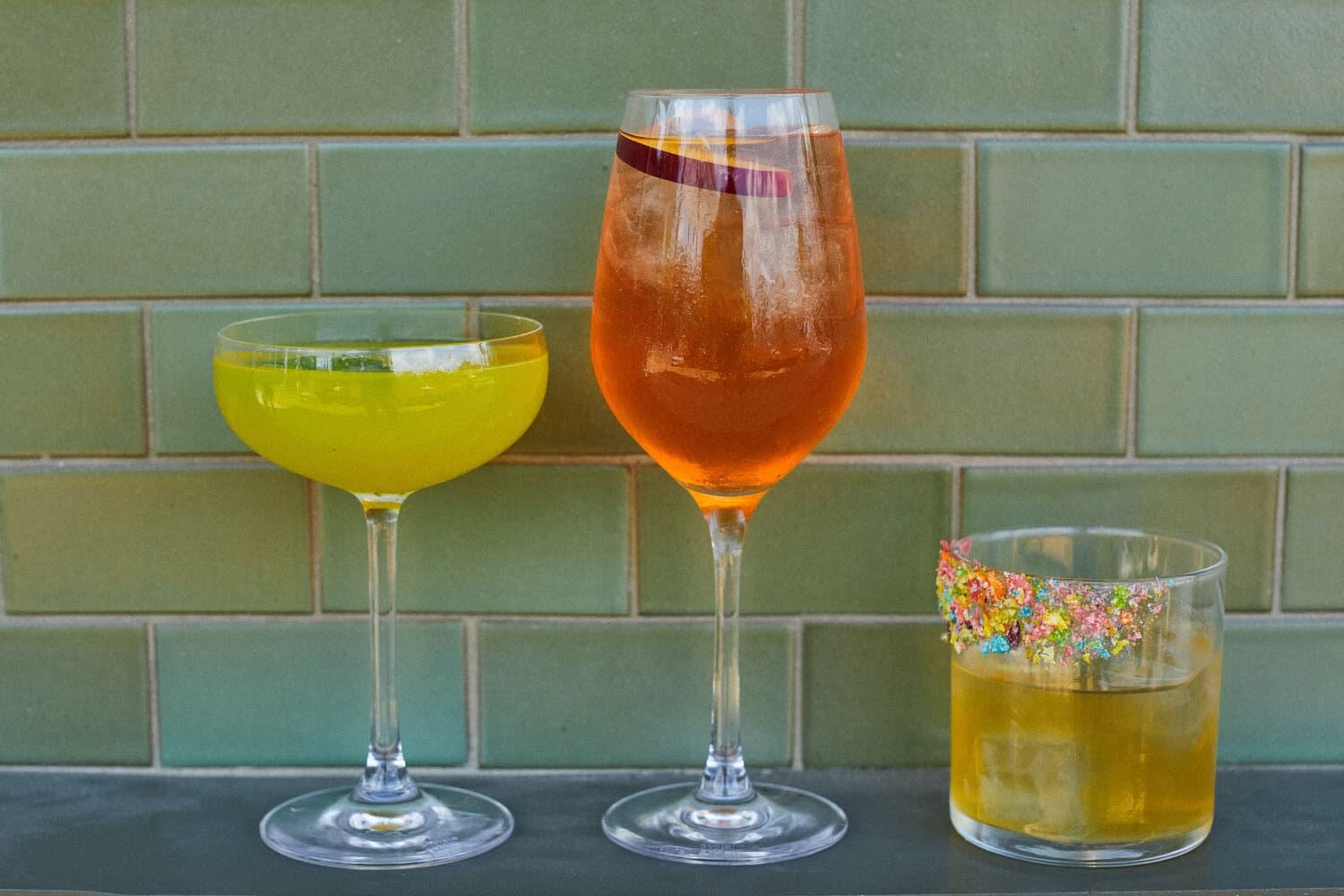 If you're jonesing for a unique brunch experience complete with coffee and cocktails, head to
Paperboy
. This stationary trailer-turned-laidback breakfast/lunch spot offers a clean and modern dining room and an
the outdoor patio where you can catch some rays while you nosh your tasty brunch.
The menu here features everything from breakfast sandwiches and bowls to toast and coffee. Start your day with a jolt by ordering an espresso, or try a cold brew martini for a boozy caffeinated treat. Every cocktail is inventive, including the mango basil sangria and the whiskey jam, made with bourbon, peach preserves, lemon, and black tea.
When it comes to eats, there are plenty of tantalizing options to choose from. The peach cobbler danish is habit-forming, while the chicken and biscuits might put you in a food coma — but it's well worth it! Keep things simple with classic breakfast, or try the lemongrass cured lox for a welcome twist on a brunch favorite. Cheddar hash browns, mole-candied pork belly, and maple sausage patties are just a few of the irresistible sides you can order to accompany your meal.
Magnolia Cafe
Family-owned and fueled by the community,
Magnolia Cafe
has been serving Austinites for 42 years! This full-service eatery features an indoor dining room and a garden patio that are ideal for meeting friends over brunch.
The menu offers an array of spins on delicious diner fare, such as the croissant and the shredded beef omelet. The croissant which is a must-have for breakfast sandwich lovers, prepared with scrambled eggs, grilled red onions, pecan wood-smoked shoulder bacon, and provolone with a side of chipotle apricot jam that will make your tastebuds sing. The shredded beef omelet is a hefty three-egg omelet with shredded beef, jack cheese, onions, and cilantro, dressed with poblano cream sauce and two sides for a mere $12!
Pair your brunch with a refreshing glass of Magnolia-blend cold brew, a signature orange fizz soda, or the herbal iced hibiscus tea (with free refills!). Regardless of the drink or entree you choose, you're sure to enjoy a scrumptious brunch at Magnolia Cafe.
Moonshine Grill
Jalapeño Hanger Steak, Credit: Moonshine Grill
To take diners back to a simpler time,
Moonshine Grill
provides a relaxed atmosphere and heartwarming comfort foods prepared with love. It has two locations, one in Avery Ranch and one Downtown, both of which offer Sunday brunch.
Snag some cathead biscuits and fried green tomatoes for the table before settling in for the main course. Get some greens in with a yummy veggie hash, or opt for some steak and eggs to keep you full for hours. If you like a bit of spice in your life, order the jalapeño hanger steak, served with Yukon mashers and salsa verde.
There are also several sandwiches and sides to enjoy, but be sure to save room for dessert. Sweets include seasonal fruit cobblers, peanut butter mousse pie, banana cream pudding, dark chocolate cheesecake, and cinnamon rolls.
Snooze A.M. Eatery
Don't hit the alarm clock again! Instead, head to
Snooze A.M. Eatery
for a delicious brunch. This vibrant, retro chain restaurant serves a seasonal menu of innovative breakfast and lunch dishes, with libations to boot!
Keep things autumnal with a pumpkin spice latte or warm up with some Snooze hot chocolate. For a kick, try the spicy bloody mary or opt for an Irish coffee for a creamy, caffeinated delight.
The food menu is teeming with variety, from vegetarian tofu scrambles to customizable breakfast sandwiches. There are two different egg bennys to choose from, though the benny duo allows customers to try both! Keep things light and nutritious with a protein and veggie egg white scramble, or opt for a breakfast pot pie if you're feeling indulgent.
With everything from shrimp and grits to garden harvest omelets, you'll be sure to savor a memorable brunch at Snooze A.M. Eatery.
Sawyer & Co.
Known for its contemporary Louisiana fare,
Sawyer & Co
. is a traditional Southern diner with an inviting bar and patio. Faye "Arkie" Sawyer opened Arkie's Grill in 1948 with the motto: "Where good food, friends and fair prices meet." Sawyer & Co. was opened in 2014 as a tribute to Arkie's community legacy and to honor the owners' Southern roots.
Stop by on the weekend for brunch filled with Southern favorites like gumbo and timeless muffalettas. Some "Sawyer Staples" include biscuits and gravy and the fried chicken biscuit, featuring fried chicken topped with cane syrup honey butter on their famous buttermilk biscuit, with grits or crispy brabant potatoes on the side. Try the housemade granola and yogurt or vegetable hash if you're looking for something lighter.
Don't forget the drinks! Try a signature spa day cocktail or a tangy grapefruit mimosa. End your meal on a sweet note with a slice of apple pie or a luscious pecan sticky bun.
Josephine House
Josephine House
is a casual yet chic spin-off of the neighboring Jeffrey's offering seasonal New American eats. The Clarksville cottage features a charming marble bar for coffee and cocktails, intimate tables in the dining room, cozy nooks on the patio, and a grassy front lawn for lounging.
The eclectic menu boasts the best locally sourced ingredients available. Brunch is served daily from 9-3 PM and offers everything from freshly baked goods to big chopped salads overflowing with exceptional produce and goat feta.
Soak in the spirit of summer with an Endless Summer cocktail, or try the creative Ode to Sushi, featuring Sipsmith VJOP Pisco, lemon juice, green tea syrup, and Fever Tree Tonic Water. Once drinks are handled, savor some scrumptious dishes like fresh green gazpacho and heavenly shrimp and grits.
Don't leave without an everything bagel danish and a tahini caramel brownie. You won't regret it!
Forthright
Forthright
is a beloved local eatery serving up honest food made from scratch and Counter Culture coffee. Share some coconut chia pudding and a waffle stack with friends in preparation for the entrees. Toasts and salads are ideal for those with a smaller appetite.
The roasted apple salad gives major fall vibes with roasted apples, spiced walnuts, goat cheese, spinach, arugula, fried leeks, celery, and lavender fennel vinaigrette. The hefty Forthright burger is a meat lover's dream, while traditionalists enjoy the American breakfast, served with two eggs, sourdough toast with housemade jam, a hash brown, and choice of bacon, sausage, or avocado.
Pair your pastrami hash with an oat milk cappuccino, and you've got a brunch for the books.
Mattie's
Every Saturday and Sunday, brunch is served at the 19th-century home turned antique-chic lounge, bar, and patio
Mattie's
. Bring some friends to share a mimosa package while you decide what to eat.
Start with some avocado toast topped with a poached egg, or snag some blueberry doughnuts for a sweet beginning. The little gem caesar offers a vegan twist on a classic, made with creamy cashew dressing and almond "parmesan" cheese. For the ultimate satisfaction, get the fried chicken eggs benedict or the milk punch french toast, prepared with griddled bread pudding, strawberry-raspberry compote, whipped mascarpone, and candied citrus zest. And you simply can't go wrong with some Porfi's housemade pork and sage sausage or Nueske's applewood smoked bacon on the side.
Are you or someone you know looking to move to Austin, Texas? Contact Carla Umlauf and the
UMLAUF Properties Group
with all of your Austin realty inquiries. This esteemed group of real estate professionals collaborates to give each client a memorable and successful experience. Whether you seek Westlake Hills real estate or Lakeway luxury homes, UMLAUF will guide you each step of the way.